If I say Ra.one was completed in 35 days would you believe it? No, and must be laughing after reading that. You might be thinking who can shoot a movie in 35 days. So here it is "Nautanki Saala" which was completed in 35 days.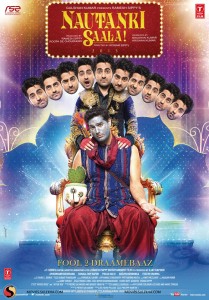 A film by Rohan Sippy starring Ayushmann Khurrana and Kunal Roy Kapoor, was shot in 35 days…The film is all about Drama and was to be titled Dramebaaz but later was settled for Nautanki Saala.
The movie was completed fast, with most shots being perfect in first take.
Nautanki saala releases on 12th April.