Three Legends of Indian Cinema come together on the occasion of 100 years of Indian cinema, Filmfare celebrates 100 years of Bollywood.
Superstars of 3 generations are now in one frame of Filmfare cover,
Amitabh could not resist himself and shared a few awesome shots with SRK on his Blog.
"So for now just a few pictures of the day done at Dilip Saheb's house for a photo shoot with him and Shah Rukh for the cover of Filmfare, celebrating the 100 years of Indian cinema."
Amitabh Bachchan shared this news by Tweeting
"Photo shoot with Dilip Saheb and Shah Rukh for the cover of Filmfare – 100 years Indian cinema… Threatening Filmfare to put out pictures."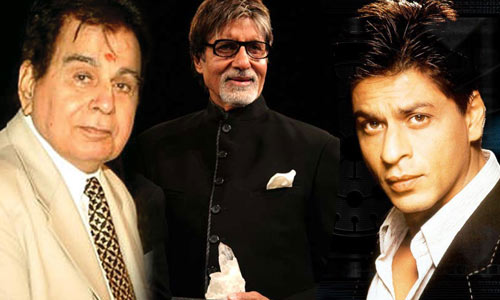 90 years old Dilip Saheb, was the superstar of 1950s and 1960s with the superhit movies like "Naya daur", Deevdas and "madhumati", Big B starts his success journey in 1970s with the hit movie "Zanjeer", "Sholay"  and still roaring on the screen, and Shahrukh Khan King of Bollywood ruled the 1990s of Indian cinema with the hits like "Baazigar", "Darr", and "Dilwale Dulhania le jayenge".