Fugly is a Comedy, Drama Thriller film of 4 friends with a strong message. The film has got a fresh star cast that is quite refreshing with some great actors like Jimmy Shergill, Salman Khan and Akshay Kumar. Akshay and Salman will be sharing screen after a long time with Fugly. Vijender Singh will make his Bollywood Debut with Fugly and the glimpse of Vijender's acting in the trailers seems quite impressive.
Fugly Full Cast and Crew
Director: Kabir Sadanand
Produced By: Ashvini Yardi
Alka Bhatia
Akshay Kumar
Written By: Rahul Handa
Music By: Yo Yo Honey Singh
Prashant Vadhyar
Raftaar & Badshah
Lyricist:
Star Cast: Jimmy Shergill as Chautala
Mohit Marwah as Dev
Kiara Advani as Devi
Vijender Singh as Gaurav
Arfi Lamba as Aditya
Anshuman Jha as Cheeni
Akshay Kumar in a guest appearance
Salman Khan in a guest appearance
IMDb–
Genre- Comedy, Drama, Thriller
Release Date: 13 June 2014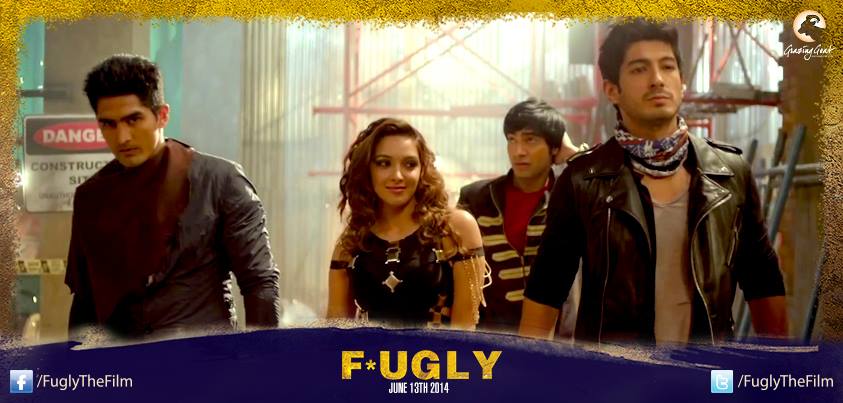 Fugly

2014 Synopsis
4 young friends, lots of fun, Tashan and a Fugly turn that brings these 4 friends in a messy situation. The trailers bring out the haryanwi touch, the madness of youth, the comedy, the funny dialogues and the scary Inspector Chautala that makes the life of these 4 friends a living Hell. Most of the movie is shot in Delhi and Mumbai.
Fugly

 Music Review
Yeh Fugly Fugly Kya hai, ye Fugly Fugly…. Needless to say, the title song of Fugly has already spinning in heads of many and just won't stop spinning. Not just the title track, almost all songs of the film are amazing. Dhup Chik has a haryanwi touch, that makes the song a little unique and more loveable. Dhuaan Dhuaan is sung by Arijit Singh and this melodious song gives the popping songs a control. I wish the album has got a little more variety and most of all songs are peppy. I will give the music of Fugly 3 stars.
Fugly 

Tracklist
Lovely Jind Wali
Good In Bed
G Pe Danda
Dhuaan Dhuaan
Banjarey
Dhup Chik
Fugly Title Song
Fugly

2014 Official Trailer
Official Trailer                                              
Dialogues of Fugly
Mansarovar ki Yatra – Dialogue Promo
 I'm a pure Chooza – Dialogue Promo
Dilli Ki Ladki – Dialogue Promo
Join Our Facebook Group
Filmy Keeday
Private group · 1,714 members
Join for Film Discussions !