Godzilla 2014 Film
Godzilla 2014 is an American Sci Fi monster film Based on Godzilla by Toho, featuring Japanese monster film of the same name. Godzilla 2014 tells the story of the origin of Godzilla as "terrifying force of nature". Another Movie on Godzilla was released in 1998 in which Manhattan was attacked by Godzilla but in that Movie. This movie is just like the prequeal of the 1998 movie this movie will share origin of Godzilla,  Godzilla 2014 is going to release on May 16 2014 in 2D and 3D. The film will release in Japan on July 25, 2014 in 2D and 3D.  1998 Godzilla was in 2D format but Godzilla 2014 is going to release in 3D ,2D and IMAX 3D versions. According to Chief of Special effects Team Jim Rygiel, Godzilla 2014 has some great special effects this time.  There are many movies made on the same franchise but most of them were in Japanese language.
Godzilla 2014 Full Cast and Crew
Director: Gareth Edwards
Produced By: Thomas Tull
Jon Jashni
Mary Parent
Brian Rogers
Story By: David Callaham
Screenplay By: Max Borenstein
Music By: Alexandre Desplat
Cinematography: Seamus McGarvey
Editing By: Bob Ducsay
Star Cast: Aaron Taylor-Johnson
Ken Watanabe
Elizabeth Olsen
Juliette Binoche
Sally Hawkins
David Strathairn
Bryan Cranston
IMDb–
Genre: Action, Adventure, Sci-Fi
Budget: $160 million
Release Dates: May 16, 2014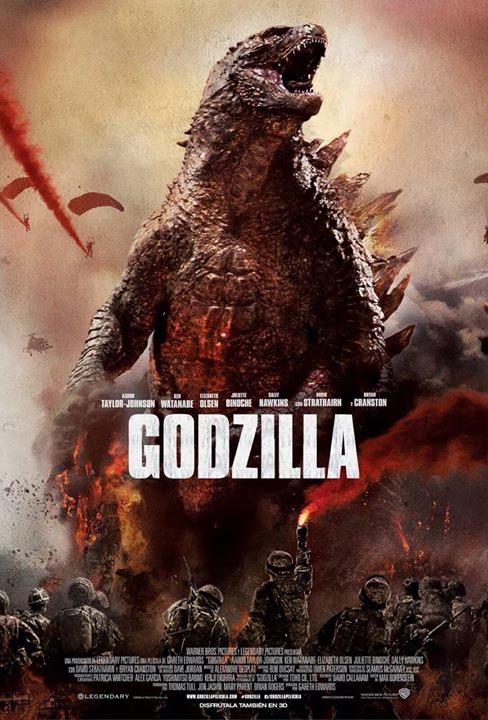 Godzilla 2014 Synopsis
Godzilla 2014 deals with the World's most famous monster who is fighting against malevolent creatures. These malevolent creatures, bolstered by humanity's scientific arrogance are threatening the existence of humans. Godzilla rises to restore balance as humanity stands defenseless.
Godzilla 2014 Trailer
Making of Godzilla 2014

More Videos Coming Soon