Aliens and UFO's have always been like a mystery for all of us. Hollywood, however has its own perception of this mystery with a very clear verdict- Aliens do exist. Be it fantasy or fiction, we all love watching Hollywood movies that are based on the Aliens. Most of the Hollywood Movies on Aliens are in science fiction genre.
list of Top 15 best Hollywood Movies on Aliens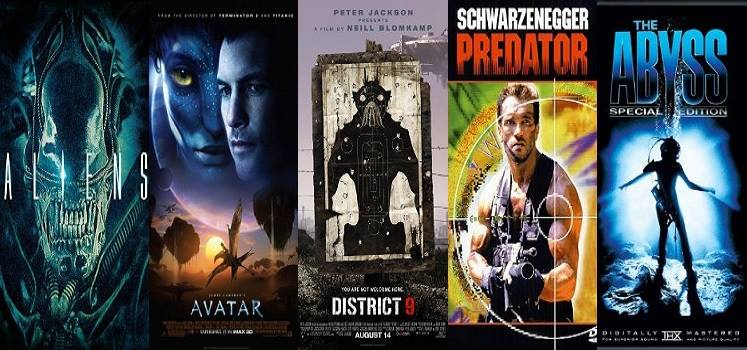 Aliens (1986) IMDb 8.5
Aliens is a 1986 film directed by James Cameron, starring Sigourney Weaver, Carrie Henn, Michael Biehn, Paul Reiser, Lance Henriksen, Bill Paxton and William Hope.
Avatar (2009) IMDb- 8.0
Avatar is a 2009 film directed by James Cameron, starring Sam Worthington, Zoe Saldana, Stephen Lang, Michelle Rodriguez, Joel David Moore, Giovanni Ribisi, and Sigourney Weaver. Avatar is the one of the best movies on extra terrestrial life.
District 9 (2009) IMDb-8.0
District 9 is a 2009 film directed by Neill Blomkamp, starring Sharlto Copley, Jason Cope, and David James. The story of District 9 was adapted from Alive in Joburg, a short film.
Predator (1987) IMDb- 7.9
Predator is a 1987 film directed by John McRiernan, starring Arnold Schwarzenegger, Carl Weathers, Jesse Ventura, and Kevin Peter Hall. The film is an Action Horror film.
The Abyss (1989) IMDb-7.6
The Abyss is a 1989 film directed by James Cameron, starring Ed Harris, Mary Elizabeth Mastrantonio, and Michael Biehn. The film also has a special edition with many more character scenes, interactions and conflicts.
Also Check : Best Romantic Movies of Hollywood