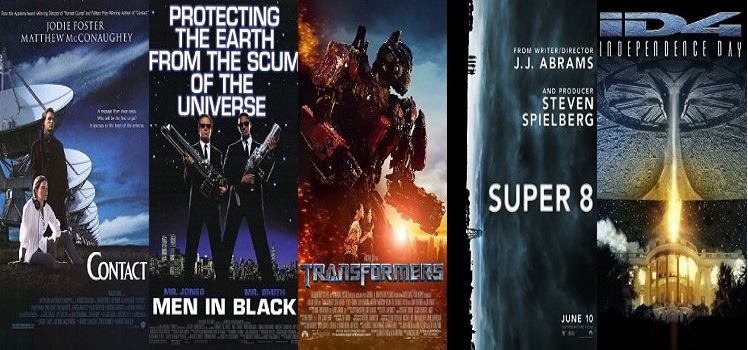 Contact (1997) IMDb- 7.4
Contact is a 1997 film directed by Robert Zemeckis, adapted from a novel of the same name by Carl Sagan. The movie stars Jodie Foster, Matthew McConaughey, James Woods, John Hurt, Tom Skerritt and Angela Bassett.
Men in Black (1997) IMDb- 7.2
Men in Black is a 1997 film directed by Barry Sonnenfeild, starring Tommy Lee Jones, Will Smith, Linda Fiorentino, Vincent D'Onofrio and Rip Torn. The story of the film is based on the Lowell Cunningham's comic book series of name, The Men in Black. Men in Black series if full of action and comedy how they deals with aliens and their problems there are 3 movies are made with same plot.
Transformers (2007) IMDb- 7.2
Transformers is a 2007 film directed by Michael Bay, starring Shia LaBeouf, Tyrese Gibson, Josh Duhamel, Anthony Anderson, Megan Fox, Rachael Taylor, John Turturro and Jon Voight. Transformers is a different kind of Aliens movie, its aliens are like robots which is totally different from all other Hollywood movies on Aliens.
Super 8 (2011) IMDB-7.1
Super 8 is a 2011 film directed by Steven Spielberg, starring Joel Courtney, Elle Fanning, Kyle Chandler, Riley Griffiths, Ryan Lee and Ron Eldard. The film is a sci fi adventure thriller.
Independence Day (1996) IMDb-6.9
Independence Day is a 1996 film directed by Roland Emmerich starring Will Smith, Bill Pullman, Jeff Goldblum, Mary McDonnell, Judd Hirsch, Margaret Colin, Randy Quaid, Robert Loggia, James Rebhorn, Vivica A. Fox, and Harry Connick, Jr. Independence Day is a Sci Fi disaster film. Independence day is the movie based on Alien attack.