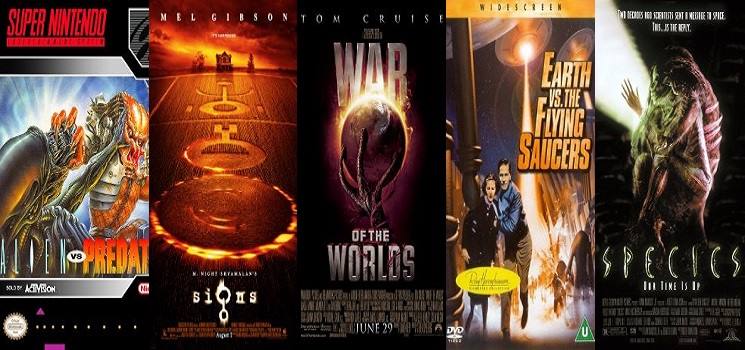 Alien vs Predator (1993) IMDb- 6.8
Alien vs Predator is also known as AVP is directed by Paul W. S. Anderson, starring Sanaa Lathan, Lance Henriksen, Raoul Bova, Ewen Bremner and Colin Salmon. The concept of the story in influenced by a 1989 comic book.
Signs (2002) IMDb- 6.7
Signs is a 2002 film directed by M. Night Shyamalan, starring Mel Gibson, Joaquin Phoenix, Rory Culkin and Abigail Breslin. Signs is a Sci Fi thriller film.
War of the Worlds (2005) IMDb-6.5
War of the Worlds is a 2005 film directed by Steven Spielberg, starring Tom Cruise, Dakota Fanning, Justin Chatwin, Miranda Otto and Tim Robbins. War of the Worlds is a sci fi disaster film loosely adapted by The War of the Worlds novel by H. G. Well. Based on Aliens attack on earth.
Earth vs. the Flying Saucers (1956) IMDb-6.4
Earth vs. the Flying Saucers is a 1956 film directed by Fred F. Sears starring, Hugh Marlowe and Joan Taylor. The film is also known by the name of Invasion of the Flying Saucers which was suggested by a best-selling non-fiction book with the name, Flying saucers from Outer Space.
Species (1995) IMDb- 5.8
Species is a 1995 film directed by Roger Donaldson starring Natasha Henstridge, Ben Kingsley, Michael Madsen, Alfred Molina, Forest Whitaker and Marg Helgenberger.
These are the top 15 best Hollywood movies on Aliens you can share more if you know much better than these movies in comment section!