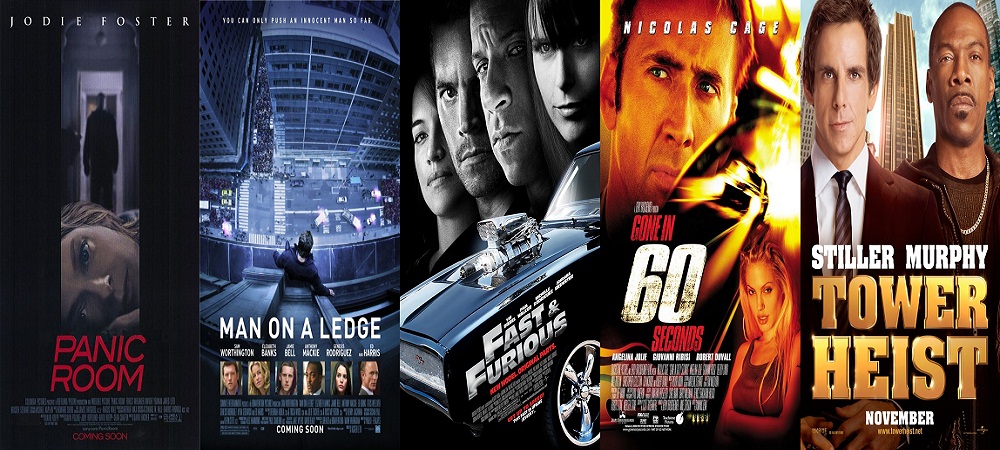 Panic Room – 2002 (IMDb- 6.8)
Three men break the house of a divorced woman who stays with her daughter. The three men are in search of a missing fortune and the duo mother and daughter takes refuge in the safe in the house.
Man on a Ledge – 2012 (IMDb- 6.6)
Man on a Ledge is a heist movie about a con who threatens to jump off Manhattan Hotel Rooftop. The police psychologist tries to talk to this ex con to take him down when the most interesting way of the biggest diamond heist is being done.
Fast & Furious Series – 2001-2014 (IMDb-6.5 first part)
The series of movies is action movies with illegal street racings and Heists. The movie series has become a brand and the latest Fast & Furious would be released in 2014. The making of Fast & Furious delayed after the sudden demise of Filmstar Paul Walker.
Gone in Sixty Seconds – 2000 (IMDb- 6.4)
To save his brother's life, the retired master car thief makes a plan to steal 50 exotic cars with his team in just one night. He must steal the 50 exotic cars and put them on a container ship before 8 am to save his brother's life.
Tower Heist – 2011 (6.2)
A group of hardworking guys becomes target of a wealthy Business man's Ponzi scheme. They are all set to take the revenge and plan to rob his high rise residence.