Salman Khan and his fan following are breaking marks after marks. Today Salman Khan is trending again for the poster and Digital poster of Jai Ho, upcoming movie of the film star. We know everything related to Salman will trend, but what is so special in the poster that it went viral like a wildfire? Salman Khan is a painter and the poster of Jai Ho was created by Salman's painting. Salman himself revealed this on twitter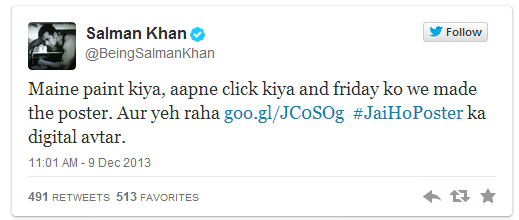 It is rumored that "Jai Ho" written on the poster is also in Salman's handwriting. Salman's own creation is enough to create a buzz in the world, and his crazy fans in the count of millions go mad for their favourite Salman Khan. It was Salman's decision to launch the poster and Digital poster among fans and not with any movie. Salman Khan's generosity towards his fans have stirred his fans emotionally. It would have been beneficial if the Poster and Digital poster was launched in a Big way like all other movies do, but Salman decided to show his love to his fans. And his fans didn't let Salman down, The poster and Digital Poster of Jai Ho are going viral and this virality is not going to end soon. That's the love of Salman fans for Salman Khan. The film trailer is also believed to unveil amongst fans only.

Salman even asked his fans to come along with him to create the poster of Jai Ho on twitter y tweeting, "Kal subah 10 baje India time pe link milenga. Click karo aur mere saath Jai Ho ka pehla poster banao. Subah 10 baje India time ok?".  The response of the tweet was unbelievable, the server crashed, and the actor tweeted about the crashed server on a tweet again, "Server mia crash ho gayeh I think, vil b sorted out in 10 mins".

The poster of Jai Ho shows many small bits of stick men in black& white and red coming together and forming a sketch of Salman Khan. The background of the poster has a canvas effect which reveals that the poster is made from a painting created by Salman Khan. The poster also reads, Peoples Man describing what the movie, Jai Ho is all about.
#IncredibleJaiHoDigitalPoster is Trending on Twitter and Facebook