Jal is not a kind of movie you have been watching on screens, it is an out of league movie directed by Girish Malik. The movie is set in Rann of Kutch about a man who has a gift of finding water. The film has already received many praises at Busan International Film Festival 2013 and International Film Festival India.
The movie has a giant list of 22 songs in its album by Sonu Nigam and Bickram Ghosh. Most of them however are instrumental, but that cannot change the fact that the album has a total of 22 songs.
Jal

(film) (2014) Full Cast and Crew

Director: Girish Malik

Produced By: Oneworld Films Pvt. Ltd.

Written By: Rakesh Mishra
Girish Malik

Music By: Sonu Nigam
Bickram Ghosh

Lyricist: Sonu NIgam
Sanjeev Tiwari
Bickram Ghosh
Sanjeev Tiwari

Star Cast: Purab Kohli
Tannishtha Chatterjee
Kirti Kulhari
Yashpal Sharma
Mukul Dev
Saidah Jules
Ravi Gossain
Rahul Singh
Gary Richardson
Inderpal Ahuja
Rohit Pathak
Habib Aazmi
Elena Kasnat
Kushum Ahir

IMDb– 7.1

Genre: Drama

Release Date: 4 April 2014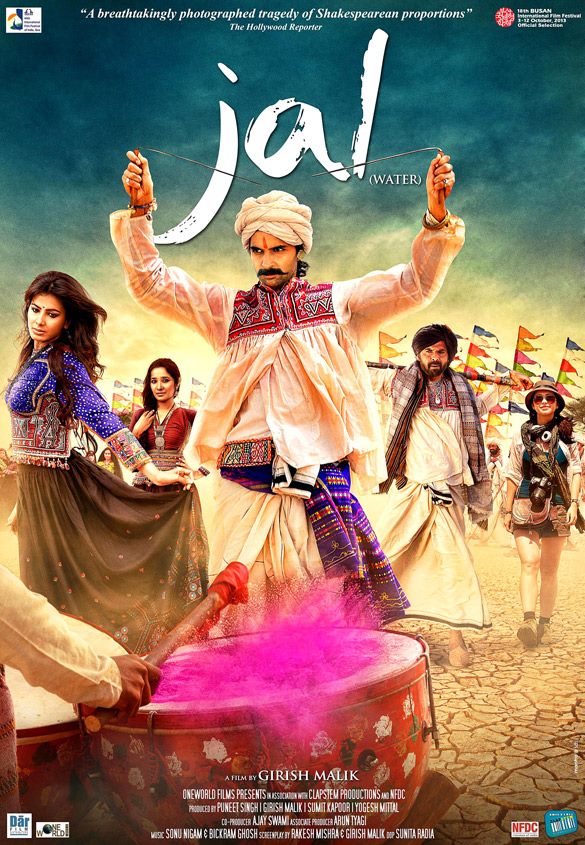 Jal

 Movie Synopsis

A water diviner, Bakka of Rann of Kutch is god gifted and can find water. This overconfident water diviner wants to solve the problem of drought in his villages, but life has something else in its pocket for Bakka.

Jal is a movie that also deals with the issues and problems people of drought struck villages have to face, which makes this movie a must watch for everyone to understand the importance of water.
Jal

 Music Review

Coming Soon……..
Jal

 Tracklist

Jal De (Title Song)
You Fill My Life
Zaalima
Paani Si Behti Jaye
Bakka Pani De (Instrumental)
The Mirage And The Tornado (Instrumental)
The Sweet Dream Of Water (Instrumental)
Mesmerized By Rann (Instrumental)
The Tragedy Of Rann (Instrumental)
The Barren Land (Instrumental)
The Cry Of The Soul (Instrumental)
Dried Up Tears (Instrumental)
Nature And The Machine (Instrumental)
Ankhiyan – Anthem (Instrumental)
The Water Ritual 1 (Instrumental)
The Water Ritual 2 (Instrumental)
The Hope Of Water (Instrumental)
The Flow Of Water (Instrumental)
The Sorrow Within (Instrumental)
Bakka And Kesar Tryst With Water (Instrumental)
Chase (Instrumental)
Anger (Instrumental)
Jal

 Dialogues Lyrics

Coming Soon…… 
Jal 

Trailer
Jal

 Movie Review

Coming Soon……
Join Our Facebook Group
Filmy Keeday
Private group · 1,714 members
Join for Film Discussions !