Facebook and Twitter are very well known Social Networking sites.
In Facebook, Only few Stars have their OFFICIAL PAGES…
And
On Twitter, Most of the STARS have their profiles.
As I already Discussed  earlier that Bollywood Celebrities use Twitter not Facebook.
So, I won't repeat it again…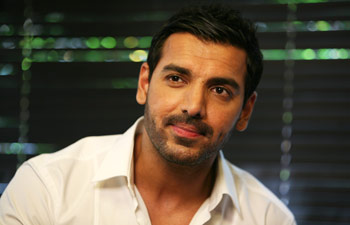 Well,
Here John also accepted that "Facebook and Twitter are very much addicted"
Recently he created a page for his forthcoming film Shootout At Wadala (SAW)  and got many like and shares within an hour from places as far as Romania, Fiji, Afghanistan, Nepal, Austria, Sri Lanka, Peru, Munich, Dubai, Birmingham, California, Kuwait, Toronto and closer home in Gujarat, Hyderabad, Kerala among other places.
This stat amazed him and when the media ask him about why he won't use social networking sites till now and will he stay long here?
He said that "There is never a right or wrong time for me. It's just my gut, my intuition and that's what's made me come on to Facebook and Twitter. I have never planned too many things in my life. I enjoy being on it now and I have to say it's very addictive."
He added, "I came on very late and I don't know if I will stay on forever. So given the limited time I am here, I want to use the medium very effectively because it's such a powerful medium and you need to use it correctly. I hope to use it honestly and I hope I get the benefit of an intelligent audience."
About Twitter he is really impressed from Amitabh Bachchan's dexterity on social media platforms.
"Mr Bachchan's frequency of tweets has impressed me. I think it is unparalleled. I happened to be watching some IPL matches the other day and his tweets were being displayed. I was like shocked and said, 'wow, awesome, great.' He is such a great mind. He just follows everything." said John.
I think John now also introduced to the power of social media and said  "It depends on how much information you want to dispense and how smartly you do it. If you are a private person and you don't know how to dispense any kind of information, don't get into this social networking space. I am a private person but I think I have handled my private life very well in today's conversations that I have had with my fans."
Now, it's amazing to see him on Facebook and twitter and now the question arises..
Will he use these sites for long?
or will try this method just to promote his movies.
Till Then, Stay Connected!