Kaanchi: The Unbreakable Wiki, Dialogue Lyrics and Music Review (2014)
After a gap of around 5 years, Subhash Ghai is back with his new creation, Kaanchi. We all have seen some mesmerizing movies from Subhash Ghai and have loved them all. Subha Ghai's movies are known for their music and eternal love stories. Kaanchi stars a newcomer, Mishty in the lead role who looks promising in the trailer. After D-Day, once again Rishi Kapoor will be seen as a Villain in the movie.
Kaanchi: The Unbreakable (2014) Full Cast and Crew
Director: Subhash Ghai
Produced By: Subhash Ghai
Written By: Subhash Ghai
Music By: Salim-Sulaiman
Ismail Darbar
Lyricist: Irshad Kamil
Star Cast: Kartik Tiwari
Mishty
Rishi Kapoor
Mithun Chakraborty
Adil Hussain
Vikrant Massey
Rishabh Sinha
Chandan Roy Sanyal
Pallavi Subhash Chandran
Sahil Vaid
Ishita Vyas
Imran Hasnee
Genre: Romantic, Musical
Release Date: 25 April 2014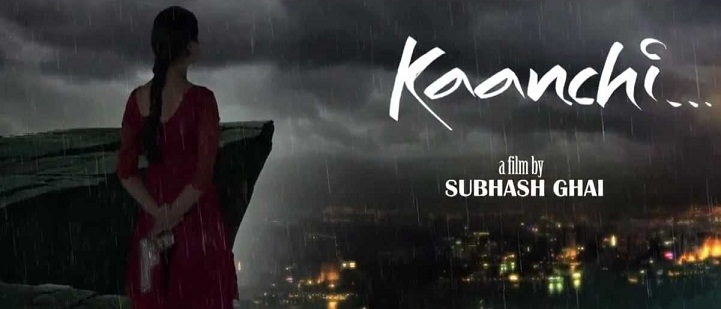 Kaanchi: The Unbreakable (2014) Synopsis
Kaanchi is a women centric movie. A movie celebrates the inner power of a girl which represent and motivates every girl. Kaanchi, is about a beautiful young and innocent girl from the rurals of India who chooses to fight against the power.
Kaanchi: The Unbreakable (2014) Music Review
Kaanchi is Subhash Ghai's creation, and Subhash Ghai's movies are well famous for its soulful melodious songs. The album of Kaanchi has 9 songs, that are different from each other. Songs have been shot in rurals to showcase the innocense and cheerful life that movie demands. Although, the music of the movie is not really upto the benchmark set by previous Subhash Ghai movies, but is also not that bad. I would give 3 stars out of 5 for the music of Kaanchi.
Kaanchi: The Unbreakable (2014) Tracklist
Kaanchi Re Kaanchi – Sukhwinder Singh
Tu Sab Kuch Re – Sonu Nigam, Anweshaa, Ismail Darbar
Main Mushtanda – Mika Singh, Aishwarya Majumdar
Koshampa – Aman Trikha, Sanchita Bhattacharya, Anweshaa
Kaisa Hai Dard Mera – Ankit Tiwari
Kambal Ke Neeche – Neeti Mohan, Aishwariya Majumder, Sanchita
Thumka – Sonu Nigam, Suzanne D'mello
Hindustan Kahan Hai – Sukhwinder Singh, Mohit Chauhan, Raj Pandit
Adiye Adiye – Sachita Bhattacharya, Avril Quadros
Kaanchi: The Unbreakable (2014) Dialogues Lyrics
Coming Soon…… 
Kaanchi: The Unbreakable (2014) Trailer
Kaanchi: The Unbreakable (2014) Review
Join Our Facebook Group
Filmy Keeday
Private group · 1,714 members
Join for Film Discussions !