11. Mohabbatein-
A man whose lover committed suicide comes back to tell her father, that Love is never wrong. SRK romanced with Aishwarya Rai in this movie.
Adopted child of a rich family falls in love with a poor girl. The audience could relate to this story. SRK romanced with Kajol in this movie, SRK and Kajol are known as the best onscreen pair of Bollywood.
13. Devdas-
Remake of the blockbuster movie Devdas. SRK romanced with Aishwarya Rai and Madhuri Dixit. Most expensive movie of its time, estimated budget of the movie was 50 Crores.
14. Chalte-Chalte-
A careless, messy, lazy man who has a trucking company meets a wealthy successful fashion designer. Both fall in love, gets married and fights alot, But as all good stories have happy endings. This one too ends on a happy note.
15. Kal Ho Na Ho-
A boy who is dying of severe heart condition falls in love with a girl, who also loves him. But refuses her proposal and makes him fall in love with a guy who can take care of her before dying. Very emotional love story.
16. Veer Zaara-
Romance that crossed the borders of India and Pakistan. Indian Air Force Pilot falls in love with a Pakistani girl, leaves his job to get her, stays behind bars for 22 years in Pakistan so his lover can lead a happy life, where his lover, the Pakistani girl takes care of his home and his family in India for 22 years thinking he is dead. They meet after 22 years. One of the best written love stories.
17. Om Shanti Om-
A junior artist falls in love with a famous actress. Om Shanti Om is a Romantic reincarnation movie. Debut movie of Deepika Padukone.
18. Rab Ne Bana Di Jodi-
Shy introverted boy falls in love with an ill fated bride on her wedding day. Her fiancée dies in an accident on the D-day and her father dies with a heart attack. This love story starts after marriage when the hero woos his wife.
19. My Name Is Khan–
An autistic Muslim boy falls in love with a Hindu widow in San Francisco. Love story of an autistic boy, who wants his love back and wants to prove the world that every Muslim is not a Terrorist. Amazing love story.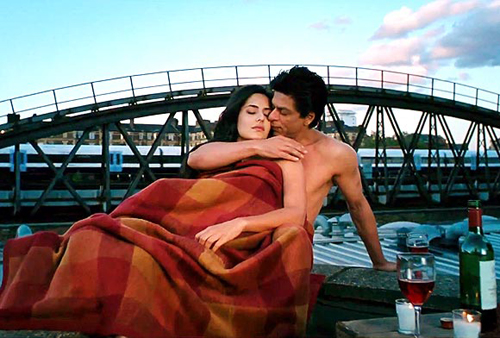 20. Jab tak Hai Jaan-
Last movie of Yash Chopra. Love story of a poor guy and a rich girl in London, they meet and fall in love. He meets with a terrible accident, and the girl prays to God for his life and takes a vow to never meet him again. He leaves London and becomes an Army officer, meets a girl who falls in love with him. Destiny takes him back to London, where the old lovers meet again with the help of the new girl.
and the latest one is Chennai Express Read more about Chennai Express.