Bollywood is famous for all its colors, seasons and celebrations. Not only Bollywood reels but Bollywood in real is also famous for celebrating festivals with all the Love and joy, one of such festival is Ganesh Chaturthi, today we are sharing Songs for Ganesh Chaturthi.
Here are the top 10 songs dedicated to Lord Ganesha by Bollywood.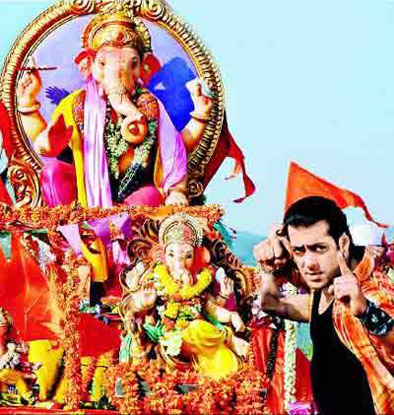 Also Read  : Top 150 Awesome Old Bollywood Songs
Ganpati Bappa Moriya (Pujarin 1969)
This Black&White devotional song is one of the oldest tributes to Lord Ganesha by Bollywood. The song is sung by Mahendra Kapoor, Composed by Narayan Dutt and the lyrics are given by Madan Bharti.
Lyrics:
'Hey Ganpati Bappa Moriya
Ho bappa moriya ho bappa moriya
Hey gazbadan Ganesh ji Ganesh ji
Mere vinti suniyo re' 
Murti ganesh Ki (Takkar – 1980)
This song is a satire on fake and fraud Godmen, who make innocent devotees fools. The song is penned by Anand Bakshi, composed by R. D Burman and sung by Kishore Kumar and Mahendra Kapoor.
Lyrics:
'murti ganesh ki andar daulat desh ki
Logon dekho dhyaan se puuchho is Beimaan se
kya Chakkar hai
haan aaj hamaari takkar hai
gali mein shor hai saadhu nahi ye chor hai
uupar se kuch aur hai andar se kuch aur hai' 
Deva O Deva Ganpati Deva (Humse Badkar Kaun – 1981)
Gabbar Singh (Amjad Khan) turned religious with this number, and changed his image of a villain. The song is very famous and takes you to an eternal bliss with its Manjeera twangs and drum beats. The song was composed by Ram Laxman, penned by Ravinder Rawal and sung by Asha Bhosle, Mohammad Rafi, Bhupinder Singh, Shailendra Singh & Sapan Chakravarti
Lyrics:
'Deva ho deva ganapati deva tumase badhakar kaun
Swaami tumse badhakar kaun
Aur tumhaare bhaktajanon mein hamse badhakar kaun
Hamse badhakar Kaun' 
Ganpati Apne Gaon Chale (Agneepath – 1990)
The song is picturised on Amitabh Bachan and Mithun Chakraborty, both have performed at their best. The song was composed by Laxmilal Pyarelal, penned by Anand Bakshi and sung by Anupama Deshpande, Kavita Krishnamurthy and Sudesh Bhosle.
Lyrics:
'Ganapati bappa morya, pudhchya varshi laukar ya
Moraya re, Bappa moraya re, Moraya re, Bappa moraya re
Ganapati apne gaon chale, kaise hamko chain pade
Jisne jo manga usne woh paya, raste pe hain sab log khade' 
Sindoor Lal Chadayo (Vaastav – 1999)
The song topped the chart as soon as it was released and still tops the chart. The song is from the movie Vaastav, starring Sanjay Dutt. The song was composed by Jatin Lalit, penned by Sameer and sung by Ravindra Sathe.
Lyrics:
'Sindoorr laal chadhaayo achchha gajamukha ko
Dondil laal biraaje sut gaurihaar ko
Hath liye guda laddu sani sukhar ko
Mahima kahe naa jay lagat hu, pad ko jay dev jay dev' 
Tera Hi Jalwa (Wanted – 2009)
The only song in history which is a Bhajan, and still not a Bhajan. A song dedicated to Lord Ganesh starring Salman Khan. The song is composed by Sajid Wajid, penned by Jalees Sherwani and sung by Earl Edgar D'Souza and Wajid Ali
Lyrics:
'Yahaan bhi hoga wahaan bhi hoga
Abb toh saare jahaan mein hoga kya ?
Mera hi Jalwa
Mera hi Jalwa' 
Shree Ganeshaya Dhimahi (Viruddh – 2005)
This beautiful devotional song is from the movie Viruddh, starring Amitabh Bachchan. The song lyrics touch your heart with every beat. The song is composed by Ajay- Atul and sung by Shankar Mahadevan.
Lyrics:
'Gananayaka ganadaivataya ganadaksha yadhimahi
Guna shariraya guna manditaya guneshanay dhimahi
Gunaditaya gunadhishaya guna pravishtaya dhimahai
Ekadantaya vakratundaya gauri tanahaya yadhi mahi
Gajeshanaya bhalchandraya shree ganeshaya dhimahi' 
Mourya

Re (Don – 2006)

Shahrukh did his first Ganesha number in the movie Don with the song 'Mourya re' and the song became very famous too. The song was composed by Shankar Ehsaan Loy, penned by Javed Akhtar and sung by Shankar Mahadevan.

Lyrics:
'Tujhko phir sey jalwa dikhana hee hoga
Agle baras aana hai, aana hee hoga
Dekhengee teree rahe pyasee pyasee nigahe
Toh man le too man bee le Kehna mera'
Hey Lambodar (Morya – 2011)
The song is from a Marathi movie and is very famous for its Qawwali style. The lyrics, the composition and beats take Ganesha devotees to some other level. The song is composed by Avadhoot Gupte and sung by Farid Sabri.
Lyrics:
'Hey Lambodar gajamukh mere morya
Mere Malik mere Maula morya – 2
Kaise tere gun ko gaaun
Tuj bin ab to raha nahi paun'
Deva Shree Ganesha (Agneepath – 2012)
Remake of Agneepath – 1990, Hrithik did a marvelous job in both the movie and the Ganesha Devotional song like Amitabh. The song, Deva Shree Ganesha is composed by Ajay Gogavale and Atul Gogavale, sung by Ajay Gogavale and is penned by Amitabh Bhattacharya.
Lyrics:
'Deva ho deva ganapati deva tumase badhakar kaun
Swaami tumse badhakar kaun
Aur tumhaare bhaktajanon mein hamse badhakar kaun
Hamse badhakar Kaun'