Agneepath (1990)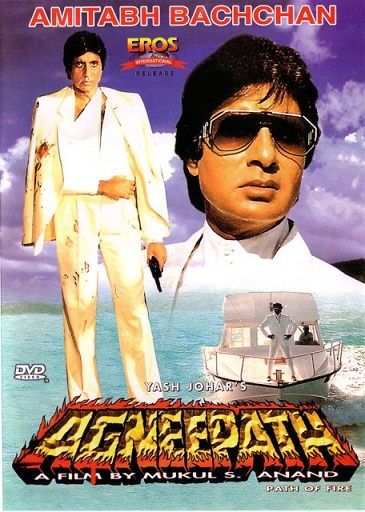 Agneepath, produced by Yash Johar was remade in 2012 with Hrithik Roshan by Karan Johar as a tribute to his father. The story of the movie was written by Amitabh's father Late. Shri Harivansh Rai Bachchan.
Vijay when young saw his father being brutally beaten to death by villagers of Mandwa is forced to leave the village with his mother. Furious and burning from anger Vijay burns down a petrol pump because the owner tries to molest his mother. Looking at such a deed at the age of 12, criminals of Mumbai hire him. Adult Vijay becomes a gangster, finds his way to go to Top eliminating all his Bosses one by one. Vijay then meets Kaancha (The man who misguided villages to kill his innocent father so he could sell his drugs in Mandwa) to take revenge of his father's death. Climax turns the game, and Kancha makes his wife and mother hostage. Vijay fights and kills Kaancha, but also dies in his mother's lap.
Kaalia (1981)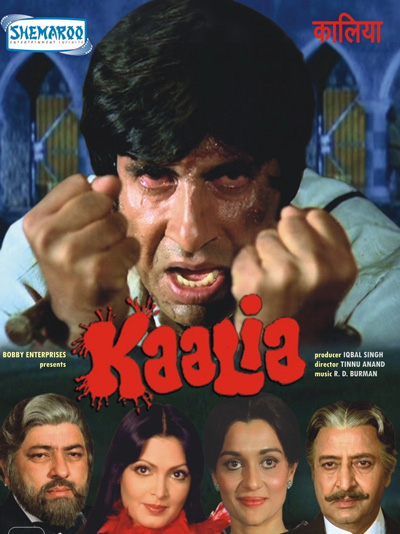 Kallu (Amitabh) is leading a happy life with his elder brother and sister in law, when one day his brother meets with an accident at work and lose his arms. They need money for his treatment, Kallu begs his brother's boss for some money but is refused. Kallu breaks into the safe of the boss and gets the money, but loses his brother. The boss puts Kallu behind bars, where Kallu becomes Kaalia. Kaalia is a criminal and knows money is everything, he earns lots of money to take care of his sister is law whom he treats like a mother. Later on, The boss kidnaps Kaalia's niece and forces his sister in law to testify against Kaalia for a murder case. Kaalia is jailed for murder, but he elopes to find his niece. The warden of the jail finds out the reality and comes to know that the Boss is the same person who kidnapped his daughter 20 years ago. Warden and Kaalia takes revenge from the Boss for all his misdeeds.
Coolie (1983)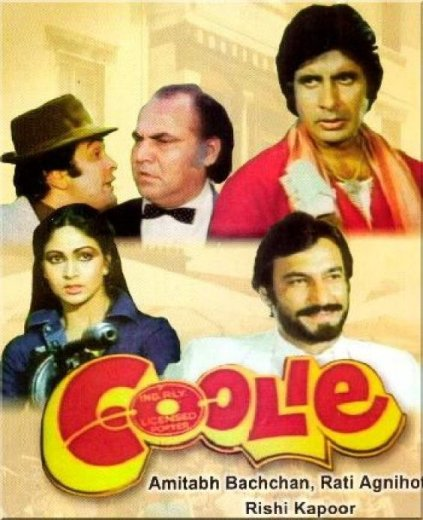 Amitabh played the role of a Coolie in the movie, who is separated from his mother, when he was very young. The movie is about two young children Iqbal (Amitabh) and Sunny (Rishi Kapoor) who are separated from their parents and accidently are staying with each other's parents. Iqbal is staying with Sunny's father and Sunny with Iqbal's mother.
When they get to know the reality, Iqbal takes revenge from Zafar, because of whom he had to stay away from his mother, and for the traumatisation Zafar has given to Iqbal's mother.
Mard (1985)
The Movie was remade in Tamil as Maaveeran also dubbed in Telugu. The move is about British people looting India's wealth and traumatizing poor Indian people. Raja Azaad Singh, confronts Brititians and stops them from looting Indian wealth. Raja Azaad Singh's wife delivered a baby boy, and he carves 'Mard' on his chest. Raja Azaad Singh is attacked by British people and is imprisoned in a dungeon. Young Raju ends up in an orphanage where a blacksmith family adopts him. Rani Durga, real mother of Raju becomes a washerwoman.
Raju grows up as a tough boy and runs a Tanga. Rani Durga unites with his son Raju and tells him everything. Raju takes revenge and reunites with his whole family on India's Independence Day.