War Chod Na Yaar Hindi Movie 2013
War Chhod Na Yaar movie is a Satirical comedy movie based on War starring Soha Ali Khan, Sharma Joshi and Javed Jaffery. WCNY was completed in just 33 days, its a medium budget movie and hence the promotion is a bit weak among high budget movies. The movie shows how the armed forces of two countries engage in a war for some unwanted reasons. The movie is full of wit and humor and being the first War Comedy movie, is is attracting lots of audience. Dialogues and punch lines are the life of comedy movies, Hope to find some really great dialogues in the movie.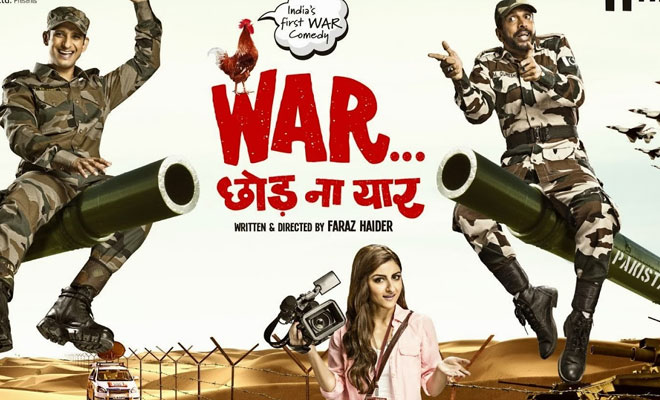 War Chhod Na Yaar Hindi Movie Cast and Crew
Director: Faraz Haider
Written By: Faraz Haider
Produced By: AOPL Entertainment
Star Cast: Sharman Joshi as Captain Raj of Indian Army
Soha Ali Khan as Rut Dutta, Reporter of Tez Channel (Headlines Today Group)
Jaaved Jaaferi as Captain Qureshi of Pakistan Army
Dalip Tahil as Defence Minister of India
Mukul Dev as Ghuspetia
Sanjai Mishra as Commander Khan of Pakistan Army
Vivek Rana as Lt. Sahil Khatri
Release Date: 1 October 2013 
About War Chhod Na Yaar Hindi Movie
The movie, War Chhod Na Yaar revolve around two army men, Sharman Joshi an Indian Army Captain and Javed Jaffery a Pakistani Army Captain. Both are on the Borderline and becomes friends, Soha Ali Khan is a reporter who enters the movie when War is declared. Two friends, Border, War and a beautiful Reporter. Both try to woo Soha, their relationship getting caught in the turmoil of war declared, their friendship and all the emotions covering you up with lots of comic sequences. The story has got a deep meaning for peace, but will the WCNY team succeed in giving the message, and make you laugh hysterically at the same time?
War Chhod Na Yaar Hindi Movie Music
The music of War Chhod Na Yaar has an overall good package and surprisingly quite melodious to the ears. The album has got 13 tracks listed below and has also got some contemporary Hip Hop number, Patriotic and Romantic song. What lacks is a promotion for the songs of this movie.
War Chhod Na Yaar Hindi Movie Tracklist
War Chhod Na Yaar
Main Jagoon Aksar
Phat Gaya
Mharo Desh Mahaan
Khwabon Si Jo
Jai Jawan
Kurban
Fauji
Ishq Mein
Main Jaagun Aksar
Mharo Desh Mahaan
Khwabon Si Jo            
Fauji (Club Mix) 
War Chhod Na Yaar Hindi Movie Review
Coming Soon……
War Chhod Na Yaar Hindi Movie Full Box Office Report 
Domestic Box Office Collection
1st Day Collection/ Opening Day Collection-
2nd Day Collection
1st Weekend Collection
1st Week Collection
1 Month Collection
Overall Collection 
Keep Visiting us for updated War Chhod Na Yaar Hindi Movie Box Office collection Reports